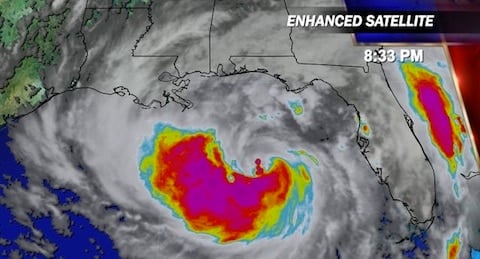 As Tropical Storm Isaac closes in on the gulf, The Republican National Convention gets underway today and maybe has prayer to thank for an on time start? Rush Limbaugh believes that the convention was never really under threat. It's all a big conspiracy guys! Before watching the speeches, get in the mood with the Obama Campaign's preview. Chris Matthews has already made his presence known by blasting into the RNC Chairman. Allen West apparently thinks that the phrase "crap sandwich" is somehow "military vernacular". Meanwhile Fox News seems to have already made a surprising implication about the Romney brothers, by use of song choice. Maybe they were swayed by this week's New Yorker cover. 
In news outside of Tampa, Ron Paul says he would have prevented 9/11. While gay couples await word from the Supreme Court regarding Prop 8, the man who is supposedly the father of the proposition hit the Blood of Christ really hard last night. In slightly better news, Scott Brown says that Gay Marriage is a settled law. Charlie Crist looks to be leaning toward becoming a Democrat. He will speak at the Democratic Convention next week in Charlotte. In definite good news, Joe Biden praised gay rights activists over the weekend. 
Feel good videos about coming out and being gay were popping up everywhere today. Check out this emotional video from an 18-year-old Rugby player who describes how he JUST came out. A recent gay high schooler has advice for other gay teens, chief among them is stay away from Grindr. Maybe that's advice we should all heed. Also check out this impassioned speech at Pride Festival in County Derry, Ireland.
Cutie Olympic diver Matthew Mitcham has another fun video. In tiny shorts of course.
Also check out a town hall at Drake University in Iowa about why marriage equality matters. If you've ever been obsessed with someone you've never met, this new documentary might just be for you. Another documentary was breaking box office records this weekend. The Anti-Obama documentary Obama's America 2016 was seen by a horrifying number of people. In other signs of the apocalypse a lion is creating panic as it runs amuck in the UK. Also, Ryan Lochte pees in a fountain, Rosie O'Donnell got secretly married, and "True Blood" has a gift for HBO Go subscribers. 
Lastly, I'd like to take a quick second to introduce myself. I'm Sam and I'm the new intern here at Towleroad. I'll be be doing regular daily recaps starting with today and working along side the team on other projects. I'm 24, live in New York City, and am really excited to get to be a part of the group here at Towleroad!