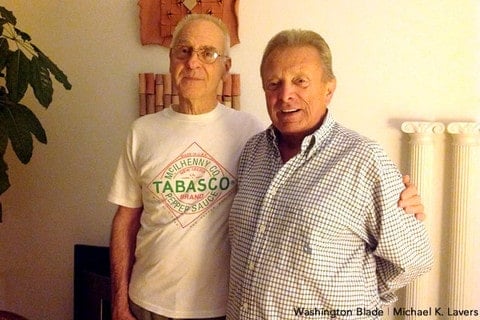 Reading this Washington Blade article about Vince Grimm and Will Kratz, a gay New Jersey couple who have been together for over five decades, I can't help but think of an idyllic, fun-loving and optimistic post-war, baby boomed America resembling American Graffiti.
Vince Grimm had just left the U.S. Army Security Agency after a two-year deployment in Korea when he returned to the Reading, Pa., gay bar scene in 1961. A 20-year-old farm boy quickly caught his eye at the Big Apple Bar.

"We saw each other on and off at the bar," said Grimm. "He was cute, blonde and kind of flamboyant — just my type."

More than five decades later, Will Kratz pointed out with a hearty chuckle during an interview at their home that overlooks Delaware Bay a few miles north of New Jersey's southernmost point that they consummated their relationship in the back of a 1957 Cadillac. "There was plenty of room," added Grimm.
Tell me more, tell me more!