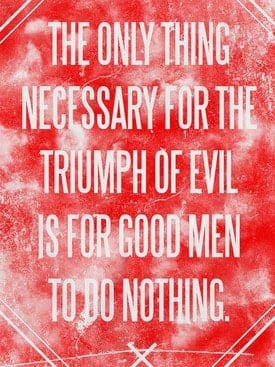 Eighteenth century political theorist Edmund Burke said a lot of things, many of them wise, in his work about people's power and fighting tyranny. "The only thing necessary for the triumph of evil is for good men to do nothing" is not one of his quotes, though a lot of people do give him credit for what has become a common phrase.
That saying is now being reproduced on the t-shirt company Dance Party Massacre's latest print, proceeds from which will go to fighting an amendment banning same-sex marriage in Minnesota.
Openly gay founder Alex Dakoulas explains:
My strong belief in following your own path has come a lot from being gay—maybe more than I realize. Having to suffer internally about this conflict, and watch how people treat others like me, made it a hard decision to be true to myself. And it's still hard to keep with it.

There are such horrible people out there, treating others as "less than" when the people they judge have done nothing to deserve it. When people are actively trying to stop others from just being happy and accepted—that to me is more evil and monstrous than anything one could say about my "lifestyle".
…
My boyfriend is from Minnesota and this November the people of that state are voting to make gay marriage illegal in their constitution. If you are from Minnesota, please consider voting against that measure. If we ever wanted to get married back in his homestate, would you really want to deny this cute couple from making a loving commitment to each other? 😉

From now until September 1st, we will be taking preorders on the design below. 20% of the profits ($5 from every shirt ordered) will go to Minnesotans United for All Families; a non-profit dedicated to make sure marriage is allowed for all.
You need a new shirt for the fall anyway, right?