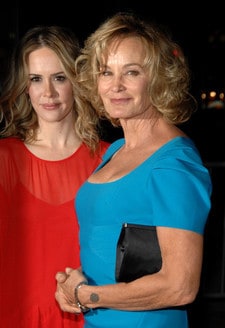 The National Enquirer, the tabloid that had a rare success in exposing former presidential candidate John Edwards' affair and love child, ran with a story yesterday claiming Jessica Lange is now dating openly gay actress friend Sarah Paulson.
According to anonymous "friends," Paulson provided a shoulder for Lange to cry on after Lange and playwright Sam Shepard called it quits after 27-years.
The women, who have been friends for years and recently co-starred together on American Horror Story, apparently let their bond become into a love affair, according to the paper.
Lange's team, however, say this "blossoming love" business is a bunch of hooey, telling another tabloid, The Daily Mail: "This story is completely fabricated and untrue."