Brittney Leon and Terri-Ann Simonelli experienced the same old story in Nevada: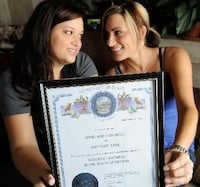 When Leon, 26, checked into Spring Valley Hospital on July 20 with complications in her pregnancy, she assumed that her partner Simonelli, 41, could make any necessary medical decisions if she suffered unforeseen problems.
But that's not what happened, they said. An admissions officer told them the hospital policy required gay partners to secure power of attorney before making any medical decisions for each other.
They protested, even offering to go home and return with their domestic partnership document. But they said the admissions officer told them that didn't matter – Simonelli would need a power of attorney. Considering Leon's condition, Simonelli wasn't in a position to argue or spend hours running to a law office. But the admission officer's words left them devastated in a moment that they already were under extreme stress.
Leon ended up losing her baby.