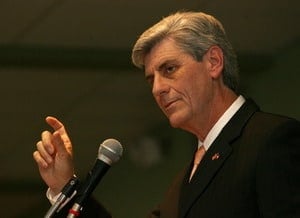 The state of Mississippi found itself facing its past when a predominantly white church, First Baptist Church of Crystal Springs, last month refused to marry an African-American couple.
Gov. Phil Bryant was asked about the scandal this week and said that he believes everyone should be allowed marry, and that the church in question was in the wrong. So, what about same-sex couples, who are forbidden to tie the knot in Mississippi? Well there the answer changes.
From The Mississippi Press:
Bryant said the denial of a wedding for a black couple at a traditionally white church has "tainted" Mississippi's image nationwide.

"I'm sure there are very good people of Crystal Springs and in that Baptist church that don't feel that way and are supporting that effort," Bryant said of the Wilsons' desire to marry in the church.

"Look, when people want to get married, we ought to let them get married," Bryant said. "We have enough people that won't go and get married. I want to make every opportunity I can for any couple that wants to, to go get married."

Even gay couples?

"I wouldn't say gay couples, no," Bryant said. "I'd say a man and a woman. Let me make sure, let's get that right. When I say couples, I automatically assume it's a man and a woman."
His conservative politics are so deeply ingrained that they won't even let his imagination meander into the realm of same-sex love.