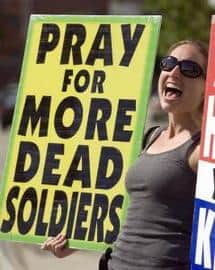 Hateful Westboro Baptist Church's protests at military funerals may soon be a thing of the past. The Senate today passed an "Honoring America's Veterans" bill that includes an amendment barring protests two hours before and two hours after military funerals.
The Huffington Post offers more details:
According to "The Honoring America's Veterans and Caring for Camp Lejeune Families Act of 2012," which is now headed to President Barack Obama's desk, demonstrators will no longer be allowed to picket military funerals two hours before or after a service. The bill also requires protestors to be at least 300 feet away from grieving family members.

This aspect of the legislation was introduced by Sen. Olympia Snowe (R-Maine), who, at the urging of a teenage constituent, proposed new limitations on military funeral demonstrations as a response to a 2011 Supreme Court case that ruled such actions were protected under the First Amendment.
The bill also expands reporting policies for sexual assaults at VA facilities, extends home loan guarantees for surviving spouses of fallen soldiers and guarantees better treatment for soldiers with severe brain injuries, according to Stars and Stripes.
Unfortunately there's no way to ban Westboro from protesting other funerals, like Elizabeth Taylor's.