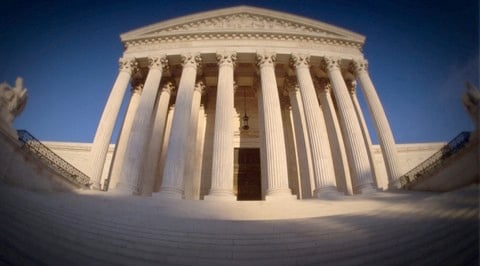 Ted Olson and David Boies, the attorneys most recently famous for their work to fight prohibition on same-sex marriage in California, joined their colleagues at the American Foundation for Equal Rights today in calling on the Supreme Court to push a Proposition 8 appeal back to a lower court. Doing so would effectively nullify the marriage ban in The Golden State.
Chris Geidner at BuzzFeed reports:
The case challenging the constitutionality of California's Proposition 8 is "an attractive vehicle" for determining "whether the States may discriminate against gay men and lesbians in the provision of marriage licenses" — but the Supreme Court should pass on the case, lawyers challenging the law say, and let stand an appeals court ruling that strikes down the 2008 amendment on narrow grounds.

If the Supreme Court takes the advice of Ted Olson, David Boies and the other lawyers representing the plaintiffs in Perry v. Brown, then Proposition 8 would remain unconstitutional, as the Ninth Circuit Court of Appeals held, and same-sex couples in California would regain the right to marry that they had been able to exercise briefly in 2008.
Read the request AFTER THE JUMP.