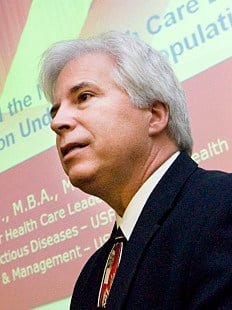 In 1995, when Dr. Bob Brooks was a Republican lawmaker in Florida, Disney World decided to give its gay employees health benefits, prompting Brooks to write a letter in which he decried Disney for supporting "a lifestyle that is unhealthy, unnatural and unworthy of special treatment."
He claimed extending the policy "will increase the spread of AIDS." "Lawmakers also were concerned that Disney's coverage of partners who are at a high risk for expensive medical ailments, such as AIDS, could lead to higher health-care costs for the company, and those costs could eventually be passed on to Disney customers," the letter read.
Brooks, a medical doctor who also studied counter-terrorism, later went on to become secretary of the Florida Health Department.
Now that he's again running for the Florida House, Brooks is trying to distance himself from that homophobic crusade and present a less zealous version of himself.
"Over time, I'm more comfortable with a [domestic partner] registry," Brooks told the Orlando Sentinel of recognizing LGBT people's relationships. Marriage, of course, is still off the table. "[I'm focussing] specifically on the economy, jobs and health care… The social issues are not going to be as a high a priority."
Rival Linda Stewart isn't going to let Brooks off that easily, though. "He can't run away from that," she told the Sentinel. And the state Democratic Party is giving her a helping hand: they recently published a flier comparing Brooks to disliked Gov. Rick Scott and, yes, that flier makes mention of Brooks' Disney protest.