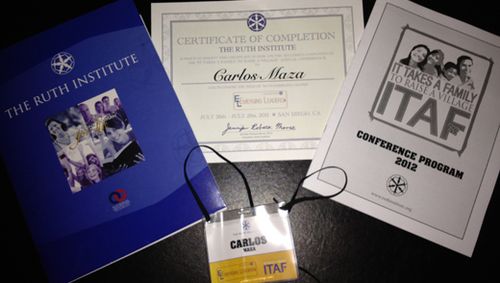 Equality Matters staffer Carlos Maza went undercover at the weekend-long "It Takes A Family To Raise A Village" (ITAF) conference in San Diego, CA sponsored by NOM's anti-gay Ruth Institute. It's a conference meant to prepare college students to defend "traditional marriage".
Writes Maza:
NOM had spent the entire weekend trying to widen it by teaching…that gays and lesbians – including me – are unstable, dangerous, and unworthy of raising their own families. Despite the promise to focus on "marriage, not gayness," ITAF had been a veritable crash course in demonizing LGBT people.
That's because, for NOM, there really isn't much distance between being "anti-gay marriage" and being "anti-gay" – the latter motivates the former. "Raising the negative on homosexuality," as one NOM memo put it, is a central part of the organization's effort to defeat same-sex marriage. Even Morse recently confessed that NOM's decision to publically attack gay marriage instead of gay people is purely "strategic."
ITAF showcased the kind of anti-gay animus that activists have for years accused NOM of harboring behind closed doors. In the public eye, NOM depicts itself as fair-minded and moderate pro-marriage group. In reality, it's the kind of organization that seeks to train college students to justify anti-gay bigotry by relying on stereotypes, pseudoscience, and a sizable dose of right-wing religious extremism.
His report is full of hideous audio clips. Check it out HERE.