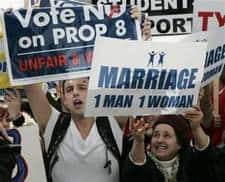 California's Fair Political Practices Commission today imposed a $49,000 fine against Yes on 8, the discriminatory group that successfully banned marriage equality in The Golden State, for the organization's donor disclosure failures.
From the LA Times:
The state Fair Political Practices Commission determined that the campaign committee ProtectMarriage.com—Yes on 8 failed to properly file public reports disclosing late contributions and political checks over $5,000, as well as failing to properly dispose of an anonymous $10,000 contribution. An investigation concluded that more than $1 million in contributions was not properly reported.

The campaign committee admitted to the violations and agreed to pay the fines.
Ellen Sturtz from Equality California says the "modest" fines do no go far enough and wants further investigations into Yes on 8's campaigning. "I come here today, urging you to do your utmost to protect our democracy against those who have contempt for it, us and our laws," she said today.
The Commission, however, found no evidence of any other political chicanery and said that the case is now closed.