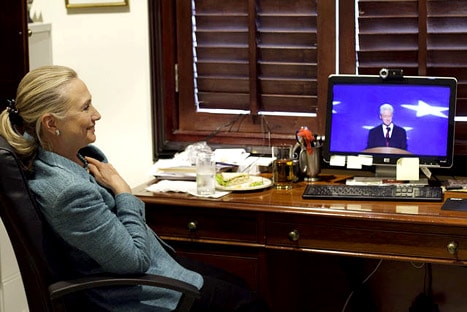 The State Department released the above photo of Hillary Clinton watching Bill's DNC speech from the Timorese ambassador's home inthe Southeast Asian nation of East Timor, where she is on a diplomatic mission.
Why wasn't Clinton at the Convention?
First of all, it's illegal. CNN notes (via Andrew Sullivan):
Federal law — the Hatch Act of 1939, amended by Congress in 1993 — specifically prohibits secretaries of state from attending political conventions, and the State Department's own ethics guidelines also rule out political activity. A senior administration official, speaking on background because the official is not authorized to speak on the record, told CNN, "The law carved out the State Department as having a unique position in the government in that foreign policy, by its nature, must remain nonpartisan/apolitical."
And if you missed it, here are 6 of the best moments from Bill Clinton's speech, along with the whole shebang.