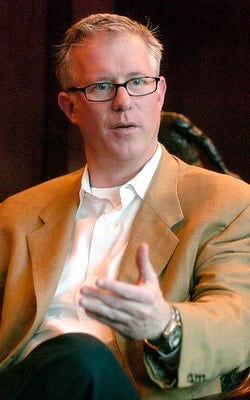 Kevin McClathy stepped down at CEO of the Pittsburgh Pirates in 2007, eleven years after the then-33 year old stepped in to take control of the baseball team.
In the five years since, McClatchy has done a lot of thinking and growing and today, in an interview with The New York Times' Frank Bruni, came out of the closet.
"I've got a birthday coming up where I'm turning old," the soon-to-be 50 year old told Bruni. "I've spent 30 years — or whatever the number
is specifically — not talking about my personal life, lying about my
personal life."
But McClatchy, heir to the McClatchy newspaper chain, says his announcement, a big one for the wide world of sports, where despite greater acceptance of LGBT culture as a whole not one major player has come out while still on the court, field or pitch, is about more than just private acceptance. He hopes to inspire a player to come out.
"Tens of thousands of people have played either professional minor league
baseball or major league baseball. Not one has come out and said that
they're gay while they're playing," he said. "You're not going to solve any problem until you start a dialogue. And there's no dialogue right now."
Chris Kluwe, the Minnesota Vikings football player who's also a vocal advocate for equality, said the biggest problem for an openly gay player wouldn't necessarily be homophobia, but narcissism: the fear from players that a gay teammate will ogle them in the locker room. "[But] that assumes that a gay person in the locker room is going to find you
attractive, which I think is pretty narcissistic," said Kluwe. "Isn't that the shallowest kind of thinking: that all of a
sudden if a gay guy comes out, he's going be staring at you?"
As for McClatchy, he's happily in a committed relationship and just as invested in baseball as ever: "That passion is evident in his home, where one room is devoted entirely
to baseball memorabilia and the main area for watching television has
three large screens, lined up in a row, so that he can follow multiple
games at once."