Newark Archbishop John J. Myers is releasing a "sweeping pastoral statement" against same-sex marriage and abortion today, North Jersey reports, and it includes some instructions to Catholics who disagree with church teachings and advice on how to cast their vote in the November election: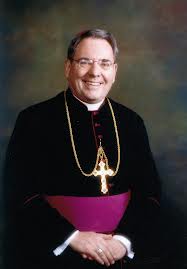 …he said they should examine the "full spectrum" of each candidate, including how they stand on abortion and "a proper backing of marriage."
He also said in the statement, a copy of which was provided to The Record before its release, that Catholics who disagree with the teachings of the Roman Catholic Church on marriage should "refrain from receiving Holy Communion." He said he issued the statement because of what he described as a lack of clarity on the subject by other bishops.
Myers' statement compares same-sex marriage to incest:
"Even those who propose radically altering the definition of marriage would not advocate allowing two brothers or sisters or an uncle and his nephew to marry (say, for the tax benefits, or for hospital visiting privileges)," he wrote.
Myers says the timing of the letter has nothing to do with the election:
Myers said he intended to release the statement in March but it was delayed as he recovered from surgery for a detached retina.
He said he doesn't believe polls that show a majority of Catholics support same-sex marriage. According to a recent survey by the Pew Research Center, 53 percent of American Catholics favor same-sex marriage, and the number rises to 72 percent among those between the ages of 18 and 34. But Myers acknowledged that a large number of Catholics seem to be at odds with church teaching, and that he wanted to reach out to them with his statement.
"No one has said things clearly to them for years," he said.