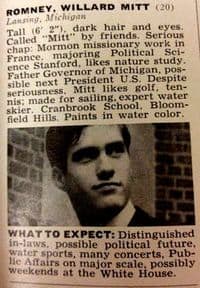 Picture it… 1968. The editorial offices of rarefied magazine Town and Country.
A list of eligible bachelors is being constructed. Someone suggests Willard "Mitt" Romney, son of Michigan Governor George. This is a good fit: the younger Romney was rich, handsome and even though had been courting Ann Davies, he was at that point single. (He and Ann would marry in December of that year.)
Thus, Romney became an "eligible bachelor," and his profile was pretty spot-on.
"Despite his seriousness," "serious chap" Romney enjoys physical activities, including water skiing, golfing and tennis – all sports that fit into the magazine's parameters of acceptable athletics. Also, politics are predicted to be a future pursuit: "Public affairs on a major scale, possibly weekends at the White House."
That notice, found by a JMG reader, also suggested George Romney would win a presidential run. He did not.
Larger version AFTER THE JUMP.