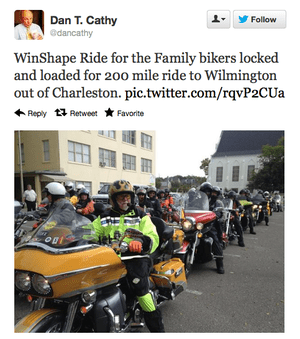 Chick-fil-A executives this week promised to stop supporting and donating money to political causes, particularly homophobic organizations that work to restrict people's rights. Apparently CEO Dan Cathy didn't get the memo.
The Advocate reports that Cathy on Tuesday tweeted a picture in support of the 2012 WinShape Ride for the Family, a ride aimed at fighting same-sex marriage.
That long ride is a fundraiser for
an organization that helps lobby against marriage equality.
Registration forms for the event ask that checks be sent, not to the
WinShape Foundation that Chick-fil-A operates, but directly to the
Marriage and Family Foundation at 5200 Buffington Road in Atlanta, Ga.

The
forms say the ride fee is $3,500 for each individual or couple. But
sponsorship packages posted online show that organizations could pledge
$5,000 for "silver" status, $10,000 for "gold" or $15,000 and more to
reach "platinum." The Chick-fil-A logo accompanies everything, and so
does the WinShape name, but it's unclear whether the foundation
continues to make donations.
The Marriage and Family Foundation was the top recipient of Chick-fil-A's estimated $5 million in anti-gay donations.