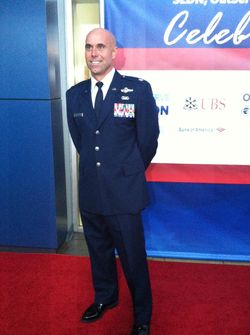 A member of the Marines said the end of DADT "meant the world to" him. His friend, a civilian who admitted he "never even considered spending one second in the military," nevertheless felt "proud" that his friend could finally be "an equal member of the Marines." A sailor in uniform said, "The end of DADT is the beginning of the end for everything else. If we can fight and die for our country, it's hard to justify discriminating against us." Another young man in our little circle disagreed, arguing that "there's a lot more to do, even in the military. We shouldn't get complacent." The two men started a civil discussion about it as I walked away.
Three women in uniform agreed that repeal was "the greatest moment of [their] lives." When I asked about discrimination faced by women, they demurred. But a veteran standing nearby followed up: "Sure, there's discrimination. There probably always be. But, you don't understand. DADT wasn't just any old discrimination. It forced you to lie about who you are. It compromised your honor and made you sick to your stomach. It told you that who you are is somehow wrong. How would you feel if someone told you that every hour of every day?" A well-dressed young man came over and said, "And, that's how gays feel in most of this country anyway. We can't marry, we can be fired for who we are."
Many civilian commentators repeated this theme and others expressed feelings of satisfaction; phrases like "the sky didn't fall" came up more than a few times. Most military commentators were simply happy. You could sense that a collective weight had been lifted from the room, that, for the first time, freedom is at hand and more is on the horizon. Men in uniform abounded, no longer worried about being identified as gay. Still, there was a hint of uncertainty: many refused to give their names, others shied away from the bright yellow name tag that indicated 'PRESS'.
So, what, if anything, does this tell us? First, many people declined to answer the question, focusing instead on their happiness at the end of DADT and desire to celebrate a great victory. I can't blame them. Second, the end of DADT is not the end of the story. Some service members may be worried about harassment and more subtle discrimination, or they may not be the kind of men and women who want to be in the spotlight. I can understand that. 
But, we cannot deny that the end of sexual orientation discrimination in the military can be persuasive in the fights to end other anti-LGBT discrimination. As one VIP attendee noted, it is hard to justify discrimination against people who are fighting and dying for their country with honor. The argument goes further: The conclusions Judge Phillips made in Log Cabin Republicans v. United States, the federal challenge to DADT that declared the entire law unconstitutional, and the statements from congressmen and senators are indicators of official judicial and legislative opinions on the merit of any kind of discrimination against gays.
That is, we now have court records and legislative history to prove that discrimination on the basis of sexual orientation is pointless, ridiculous, and disgusting. The end of DADT will advance the cause of marriage recognition: openly gay service members will want to enjoy the right to marry, in uniform and on base; it will force us to confront the denial of federal benefits to the legally married spouses of gay service members; it will be incontrovertible proof that treating gays equally is not only not harmful but also part of our constitutional tradition.
***
Ari Ezra Waldman teaches at Brooklyn Law School and is concurrently getting his PhD at Columbia University in New York City. He is a 2002 graduate of Harvard College and a 2005 graduate of Harvard Law School. His research focuses on technology, privacy, speech, and gay rights. Ari will be writing weekly posts on law and various LGBT issues. 
Follow Ari on Twitter at @ariezrawaldman.