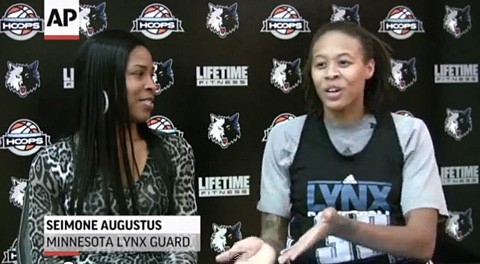 Seimone Augustus, a guard for the Minnesota Lynx in the WNBA, talks to the AP about proposing to her girlfriend and the hope she has that one day marriage equality will come to Minnesota.
"I felt like it was the perfect time for me, being on a platform where I can make a change with my voice and my situation," Augustus told The Associated Press. "Maybe inspire someone else to come out and be comfortable with themselves. Or maybe someone else's parents will see my parents saying that it's OK to be with your child and love your child unconditionally regardless of your sexual preference."
It seems, however, in the interview, that Augustus thinks that the November ballot measure will legalize same-sex marriage in Minnesota, which it won't. If it doesn't pass, it will simply mean that there's no constitutional ban on it. Perhaps one day they won't have to go to Iowa to be married, but it won't be soon.
Watch, AFTER THE JUMP…