Matt Birk, a center for the Baltimore Ravens (Brendon Ayanbadejo's team) and a former player for the Minnesota Vikings (Chris Kluwe's team) wants people to know that he doesn't share their pro-equality views, penning an op-ed in the Star Tribune calling for voters to protect marriage, and noting that "not all NFL players think redefining marriage is a good thing."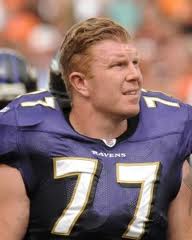 Says Birk, in part:
Same-sex unions may not affect my marriage specifically, but it will affect my children — the next generation. Ideas have consequences, and laws shape culture. Marriage redefinition will affect the broader well-being of children and the welfare of society. As a Christian and a citizen, I am compelled to care about both.
I am speaking out on this issue because it is far too important to remain silent. People who are simply acknowledging the basic reality of marriage between one man and one woman are being labeled as "bigots" and "homophobic." Aren't we past that as a society?
Don't we all have family members and friends whom we love who have same-sex attraction? Attempting to silence those who may disagree with you is always un-American, but especially when it is through name-calling, it has no place in respectful conversation.
A defense of marriage is not meant as an offense to any person or group. All people should be afforded their inalienable American freedoms. There is no opposition between providing basic human rights to everyone and preserving marriage as the sacred union of one man and one woman.
Read Birk's full piece here.