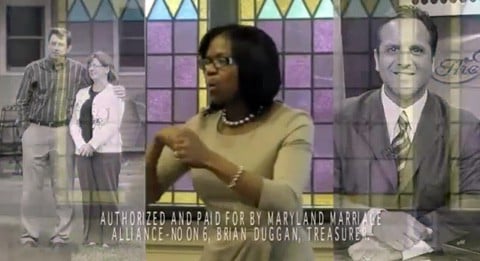 Officials at Gallaudet University are demanding that the anti-equality group Maryland Marriage Alliance stop airing an ad featuring Angela McCaskill, the University's associate provost of diversity and inclusion who was suspended after signing a petition to put the marriage question on next month's ballot.
That ad features McCaskill as a person who was "bullied" for speaking out against equality. Gallaudet officials, however, see the issue as copyright infringement.
"The video they are using, the ad, is actually copyrighted by us," said Katherine Murphy, executive director of communications and public relations at Gallaudet in Washington. "We're in touch with our attorneys to have them follow up with the group to ask them to take down the ad."

Deana Bass, a spokeswoman for the Maryland Marriage Alliance, said the group has not heard any formal complaints about the spot, and it has no intention of removing it.

"It is a fair use of the footage," said Bass. "At this point, [the incident] is in the public space. We want people to understand what is at stake with Question 6."
McCaskill's lawyers say she did not approve the message for which her face is being used, and claim her signature on the ballot petition indicate her position one way or the other.