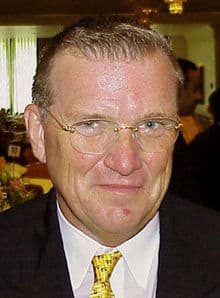 Well aware that some voters are sitting on the laurels, either expecting President Obama to win or not caring about domestic policies, legendary activist David Mixner today implored voters to get out next month and cast their ballot for the commander-in-chief.
Reminding readers that all the GOP leadership has said they're committed to banning marriage equality from coast-to-coast and reminding us that inclusive laws could very well be passed or upheld in four states – Maine, Minnesota, Washington and Maryland – next month, Mixner writes, "Never have we as a community been so close to full equality and never have we been so close to losing it all in this election."
From Mixner's post:
No matter how we would want the world to be this morning, it makes no difference. Our lives, our future and our freedom are at stake in this election. Don't play with it. Don't be high and mighty about it. Don't blame someone else about it. As a dear friend always reminds me, "It is what it is".

Just do what the courageous and noble LGBT community have always done in the times of adversity. Fight back. Fight hard. Ignore the odds. Show others how it is done. Most importantly take this nation to a new place in its politics, hearts and values.

Let's get the job done.
Of all the "this election is about a choice" messages going around right now, Mixner's may be one of the most blunt, and the most right.
(photo: rex wockner)