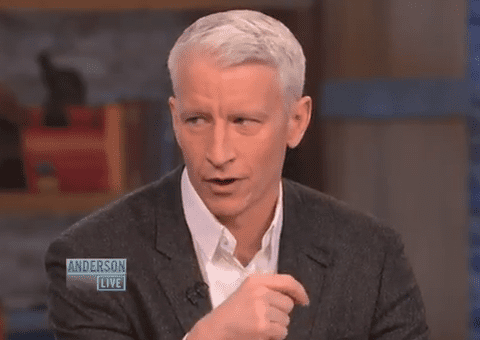 Anderson Cooper invited fellow gay television personality Andy Cohen to play co-host on his daytime talk show today. And the fellas had plenty to talk about, including how Cooper is feeling now that he has officially come out.
Though Cooper doesn't necessarily feel any more free or particularly liberated since coming out, Cooper did mention that he was annoyed — well, his mother was annoyed, and then told him — about former View co-host Star Jones claiming he came out to boost said talk show's ratings.
"I will say and I actually haven't mentioned this, the only thing that did kind of annoy me and actually it annoyed my mom who brought it up to me, Star Jones of all people," he said, before getting appropriately pointed: "I haven't thought about Star Jones in I don't know how long. I was unaware she was even on TV still … but she apparently shows up on a morning show."
"Out of the blue Star Jones … said this was a ratings ploy by me to boost ratings." This couldn't be further from the truth, he said, noting that the coming out announcement was made while he was on assignment overseas.
More from Mr. C:
If I was wanting to boost ratings, I would have waited to announce it on 'A Very Special Episode' that would have been promo'd for weeks and weeks and there would have been commercials … 'Anderson's Huge Announcement.'"

As memory serves, in terms of boosting ratings, I seem to recall [Star] hocking her wedding every single day to get free products when she was on 'The View' and I seem to recall her lying about her gastric bypass surgery and making everybody else lie about it as well. So for her to suddenly emerge out of the shadows and suddenly attack me for this, I couldn't believe it.
Later, Andy and Anderson got to chat up the cast of the new Steel Magnolias TV adaptation, which may or may not have been a dream come true for the boys.
Watch that as well as Cooper's Star Jones takedown AFTER THE JUMP…