On Monday, news spread quickly of the death of Sahara Davenport (aka Antoine Ashley), a popular star from RuPaul's Drag Race. The Wrap offered some new details today about the cause of Ashley's death: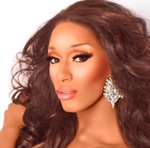 "RuPaul's Drag Race" contestant Antoine Ashley, whose stage name was Sahara Davenport, died from heart failure, his representative said Wednesday.
Ashley, 27, died at Monday at Johns Hopkins Hospital, in Baltimore, Md. His rep did not immediately reply to a request from TheWrap for more information about the cause of death.
A tribute and memorial is scheduled for November 2 at XL Nightclub in NYC and a private funeral is being held in Maryland.