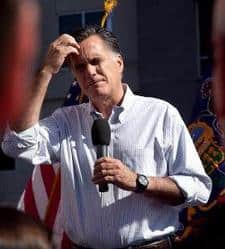 In their 35-year history, the Log Cabin Republicans have only skipped two presidential endorsements. 
Once was in 2004, when incumbent George W. Bush stuck to the anti-gay policies that helped get him elected in the first place. The second time was in 1992, when Dubya's father, George HW Bush, refused to denounce Pat Buchanan's "culture war" rhetoric.
Yet despite their clear opposition to President Obama and the Democrats in general, the Log Cabin Republicans still haven't backed GOP challenger Mitt Romney.
"Log Cabin Republicans is a national organization representing multifaceted individuals with diverse priorities among LGBT conservatives," executive director R. Clarke Cooper told Chris Geidner at BuzzFeed. "We are in the final stages of the endorsement process with various candidates and campaigns up and down the GOP ticket."
He went on to note that LCR had endorsed candidates in more local races, including Massachusetts Sen. Scott Brown's race against Elizabeth Warren, and that they are still working with candidates to see if they deserve their endorsement.
"Our endorsement is not free, and in any event we will work with the party as we are able, and challenge the party as it is necessary, to ensure that it lives up to its highest ideals of limited government and individual freedom," Cooper explained to Geidner, conveniently overlooking the fact that the Republican national platform makes clear LGBT equality is not one of their concerns. And clearly he has forgotten that his own group called that platform "ugly and harmful."