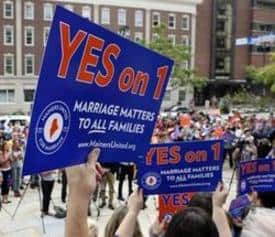 Activists and allies hoping to pass marriage equality in Maine raised massive amounts of dough in October, continuing their fundraising dominance over opponents.
According the Maine Sentinel, Mainers United For Marriage's latest FEC filings, reported last night, total $963,700 in funds raised for the month of October, $50,000 of which came from former GOP strategist Ken Mehlman. This brings their grand total up to $4.3 million.
Main rival Protect Marriage Maine did not meet last night's filing deadline, while the other opponents, Maine 4 Marriage and Maine Marriage PAC, raised $14,070 and $10,435, respectively.
A breakdown of some of the funds:
In the reports filed Friday, the Human Rights Campaign Maine Families PAC
donated $30,000 to Mainers United; Gay & Lesbian Advocates &
Defenders made a $25,000 contribution to Mainers United; Catholics for
Marriage Equality reported raising $2,210; and Freedom to Marry Maine
PAC reported raising $122,804, of which Ken Mehlman, former chairman of
the Republican National Committee, contributed $50,000.
Now that the election is a little over the week away, the Sentinel says Mainers United for Marriage plans "switching [tactics] from persuasion to get-out-the-vote efforts, including phone
banks, mailers and contacts with the few remaining undecided voters".