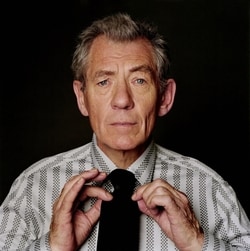 Ian "not Sir" McKellen stopped by the Acland Burghley school in England last week and in addition to reciting an impromptu monologue, the 73-year old British actor discussed growing up gay and how spending over 40 years in the closet helped him hone his craft.
There was no Graham Norton on the television at that time, no gay MPs, no-one talking about gay rights on the radio. So I dealt with it my trying to cut that part of myself off, to hide myself, to choke a part of me," he said, according to Business Insider. "When you are made to feel you are so wrong for being who you are, that's what you do."
McKellen, who came out in 1988, went on, "I think that's why so many great British actors are gay – we spent so long pretending to be straight, to be someone else, that eventually we became very good at it."
Now that times have changed, McKellen told the students "[I wish] that every child, every teacher, every person in this room can be free to be who they are, whatever their sexual orientation"
Watch video of McKellen performing the aforementioned monologue AFTER THE JUMP.