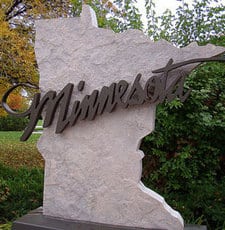 A new poll on Minnesota's Amendment 1, a measure that would write marriage discrimination into the state's constitution, shows that the race is still extremely close
The Minnesota Star Tribune reports that 47% of registered voters oppose the amendment, an unchanged number, while 48% of voters support amending the constitution to define marriage as one man, one woman. That's down one point from the previous polls. Five percent of people remain undecided, the paper says. Over 50% is needed one way or the other, and skipping the question qualifies as "no".
Not surprisingly, most of the people who oppose the amendment know someone who is LGBT: 54% of people who are voting no know someone who is gay or lesbian. Surprisingly, 40% of those who say they want to enshrine discrimination know someone who is gay or lesbian. Those are Michele Bachmann's people.
And, yes, religious leaders are playing a key role:
The sampling also found that Minnesota's faith leaders are enormously influential.

Fully 70 percent of supporters say their religious leader helped
inform their decision on the question; 26 percent say their faith leader
had little or no impact. Among amendment opponents, 27 percent said a
faith leader played a significant role in their position.
Minnesotans United for All Families, a group trying to stop the unnecessary and hateful amendment, remain hopeful that Minnesotans will see the amendment for what it is.
"When Minnesotans go to the polls, they'll measure this amendment against
their values of freedom and treating others as you would want to be
treated," said the group's campaign manager, Richard Carlbom. "This amendment just doesn't stack up to our values as Minnesotans."