Maine Senator Susan Collins, a leader in DADT repeal, and an ENDA and UAFA sponsor who also voted against the federal marriage amendment twice, remains undecided on Maine's marriage equality ballot initiative: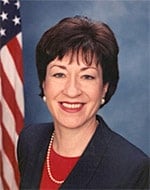 Sen. Susan Collins (R-Maine) said she remains undecided on the initiative in an email provided Thursday morning to the Washington Blade as she recalled her previous opposition to the Federal Marriage Amendment.
"Historically, laws regulating family and domestic affairs have been almost exclusively regulated by the states which is why I have voted against federal constitutional amendments defining marriage," Collins said. "Next month, the voters in Maine will be asked to decide if they will allow the state to issue marriage licenses to same-sex couples. Like voters in my state, I am considering this issue very carefully."
In related news, Collins married her husband, political consultant Thomas Daffron, on August 11 in Caribou, Maine.