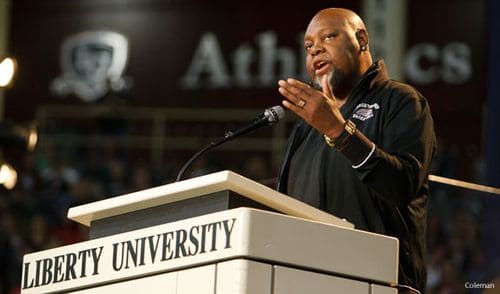 Virulently anti-gay preacher Ken Hutcherson has been increasingly vocal in his disdain of "sissified" discrimination groups that he says are too soft on gay people, including the National Organization for Marriage.
Now Hutcherson is saying that NOM and their prominent allies are racist. From Christian Post.
[Hutcherson went] as far as to accuse some of the outside leadership of racism, and felt they were excluding him because he was African-American.

"When I knew my involvement was going to generate controversy, I offered to step back and suggested others who were on the front lines do so as well for the sake of unity. They refused, leaving me as the odd man out. If you look at them, they were all the same color with the same moderate views. It just didn't make sense why they would not include a person of color who was willing to fight."

"I believe there are conservatives of all colors, but the leadership from NOM, Focus and Mission Public Affairs, wanted to run being a moderate campaign where everyone felt warm and fuzzy. But we know that sin is never satisfied and always wants more. These guys just looked and acted too much like the GOP – old and white."
NOM big-wig Brian Brown called Hutcherson's comments "absurd and reckless" and "not true." "Pastor Hutcherson wanted to work on an initiative and not a referendum which we thought was the best method," Brown claimed.
So what about those cynical attempts to play on racial divides to weaken progressive groups? Was that not racist?
[via Good As You]