The U.S. Conference of Catholic Bishops acknowledged defeat in the recent election on most of their issues Monday, and promised to persevere in their battle against same-sex marriage, the AP reports: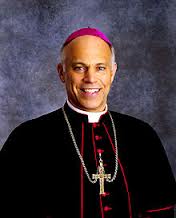 Archbishop Salvatore Cordileone, the newly installed leader of the Archdiocese of San Francisco, said gay marriage opponents were outspent by gay rights groups, and bishops are grappling with how they can be more persuasive. Surveys by the Pew Forum on Religion & Public Life have found that the number of Americans who say they have no religion is at a high of 20 percent, while the number of former Catholics is so large that ex-Catholics collectively include more people than many denominations.
"The election is a symptom of a much larger problem," Cordileone said. "Most people don't understand what marriage is."
Equally Blessed, a coalition of Catholic groups that advocate for gays and lesbians, including Dignity USA and New Ways Ministry, said it had hoped that the votes on gay marriage last week would "drive home the need for the bishops to take seriously the concerns of lesbian, gay, bisexual and transgender Catholics and their families." The group said Monday that it was "profoundly disappointed" that the bishops plan to continue their current approach to advocacy.