France's leading gay rights lobby is denouncing remarks made by President Francois Hollande, France 24 reports: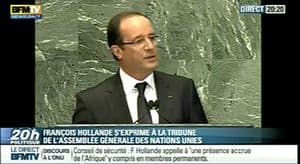 The Inter-LGBT said it was "suspending all relations with the government" until Hollande explained "what at best can be termed a clumsy act and at worse, treachery."
Hollande stirred controversy on Tuesday by saying that French mayors could opt out of officiating at gay weddings. He invoked the right to "freedom of conscience" after mounting opposition and a huge rally in Paris Saturday against the proposed "marriage for everyone" law.
Hollande's government has come under fire from Catholic groups and the right-wing opposition over the bill.
Mayors were obliged to apply the law if parliament voted to allow gay marriage, said Hollande: but "their options for delegation to deputies could be widened."
Hollande's government insist the comments are not backtracking.