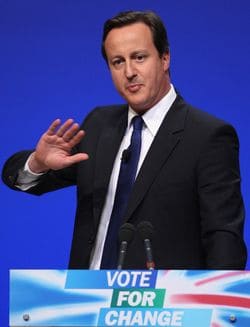 British Prime Minister David Cameron is going to have a tough time getting his Conservative Party behind marriage equality in England.
The Daily Mail reports that 119 Tories have told voters they're against expanding the law, as Cameron would like. The Telegraph puts the number at 121. It's worth mentioning that both papers lean to the right. Both also make mention of the fact that gay MP Conor Burns is one of the PM's party peers crying foul.
"I marvel at why we're bringing this forward. There is no clamor for this at all within the gay community," said the 40-year old politico, taking it upon himself to speak for all gay people everywhere.
Cameron and Liberal Deputy PM Nick Clegg reaffirmed their committment to marriage equality this week while also reassuring religious organizations that they would be exempt from recognizing same-sex marriages.