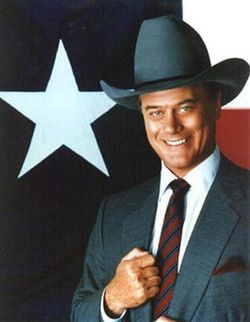 Larry Hagman, the actor made famous playing Major Nelson on I Dream of Jeannie and then made even more famous playing scheming JR Ewing on Dallas, has died.
[Hagman] had a long history of health problems and died Friday due to complications from his battle with cancer, his family said.

"Larry was back in his beloved hometown of Dallas, re-enacting the iconic role he loved the most. Larry's family and closest friends had joined him in Dallas for the Thanksgiving holiday," the family said in a statement that was provided to The Associated Press by Warner Bros., producer of the show.

The 81-year-old actor was surrounded by friends and family before he passed peacefully, "just as he'd wished for," the statement said.
Linda Gray, the actress who played Hagman's fictional Dallas wife Sue Ellen Ewing, said Hagman "brought joy to everyone he knew."
"He was creative, generous, funny, loving and talented, and I will miss him enormously. He was an original and lived life to the fullest," she said.
AFTER THE JUMP, footage of Hagman's turn as JR Ewing, a character whose shooting riveted the world and changed television forever. And, as Emily Nussbaum recently wrote in The New Yorker, that famous cliffhanger may not have been as suspenseful had it not been for Hagman's off-stage drama.
Initially, "Dallas" was a slow-moving nighttime soap opera about a family of Texan oil and cattle tycoons. The series had risen to become a top drama on CBS, when, on March 21, 1980, an episode called "A House Divided" aired. Larry Hagman's J. R. Ewing—a villainous minor character who became, through Hagman's magnetism, the smirking star of the series—was plugged in the gut. The nation had a new catchphrase: "Who shot J.R.?"

The real culprit behind the shooting was a network brainstorm. "We had done, I think twenty-two shows, and CBS was making so much money they wanted to extend it for four," Hagman recalled, in 2010. "And our producers said, 'Let's just shoot the S.O.B. and figure it out later.'" J.R. was featured on the covers of Time and People. CNN, which had just been launched, devoted a series of segments to hyping the show, hoping for some pop heat during that grim year (hostages in Iran, the economy in the dumps). But the cliffhanger might have been less effective if Hagman hadn't walked off the set. He flew to Europe and demanded a raise, which triggered rumors that the producers would resort to a plastic-surgery twist to replace him with Robert Culp.
AFTER THE JUMP, a Dallas compilation that proves only Hagman could play Ewing and, via JMG, the first episode of I Dream of Jeannie.