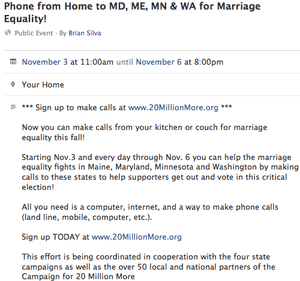 With election day finally around the corner, Marriage Equality USA has launched a side project called 20 Million More, aimed at passing equality or stopping discrimination in the four states with gay marriage-related ballot questions, Maine, Maryland, Minnesota and Washington.
"This fall, the opportunity exists to expand marriage equality or prevent anti-marriage efforts for almost 20 million Americans!" the group says before asking for people willing to work phones from the comfort of their own respective homes.
Details from Facebook are included to the right and will expand if you click on the image. Those interested can volunteer here.