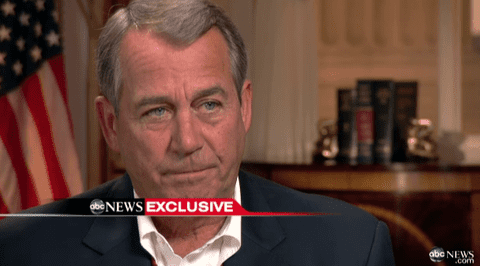 House Speaker John Boehner wouldn't go so far as to say that he and his Republican colleagues won't waste time trying to overturn President Obama's healthcare law, but the Representative did tell ABC News' Diane Sawyer that the signature legislation is "the law of the land."
"It's pretty clear that the president was reelected, Obamacare is the law of the land," he said, before adding, "I think there are parts of the healthcare law that are gonna be very difficult to implement. And very expensive."
Asked, "You won't be spending the time next year trying to repeal Obamacare?" Boehner responded, "There certainly may be parts of it that we believe– need to be changed. We may do that. No decisions at this point."
Boehner also told Sawyer, "We don't have a Tea Party caucus to speak of in the House" and insisted failed vice presidential candidate Paul Ryan is not the leader of the party. Rather, he's a "policy wonk."
"He's involved in the cause of trying to bring us pro-growth economic agendas for America and making sure that we're doing this in a fiscally responsible way," said Boehner. "I'm glad that Paul Ryan's coming back to the Congress."
Watch video of Boehner telling Sawyer the GOP will not raise taxes to cope with the forthcoming fiscal cliff AFTER THE JUMP…
UPDATE: And, Boehner walks it back.
ObamaCare is law of the land, but it is raising costs & threatening jobs. Our goal has been, and will remain, #fullrepeal.