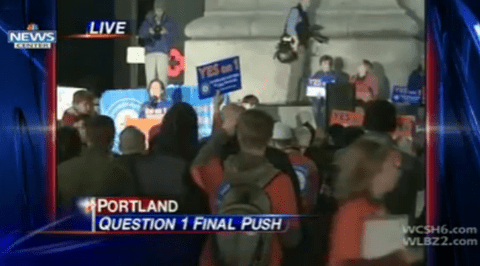 With the historic vote on Question 1, the passage of which would legalize marriage equality in Maine, the group Mainers United for Marriage today held its final "call to action" to guarantee as many supporters as possible vote yes next Tuesday.
Mainers United had hoped to draw 500 people, but this report from WCSH 6 put the number at about 250, while the AP put the number at over 300. From that report:
The memory of 2009, when voters overturned a gay marriage law passed earlier in the year by the Legislature, is still painful, Matt McTighe, campaign director for Mainers United for Marriage, told the crowd.

One key to victory this year will be to convince others that allowing "loving, committed" couples to marry is the right thing to do, he said. He encouraged people to vote early by absentee ballot at Portland City Hall after the rally.

"We do not want to wake up the day after the election and think we could have done it if we'd just worked a little harder or had a few more conversations," he said.
Watch video of WCSH's report AFTER THE JUMP.