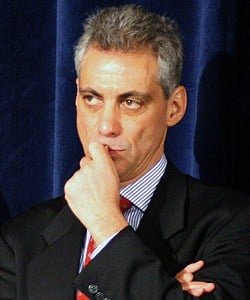 Chicago Mayor Rahm Emanuel's announcement that marriage equality should be a high priority for the Illinois legislature has some wondering if the Land of Lincoln is the next frontier in the fight for gay rights.
According to an AP report today, the outlook is hazy:
…The political realities in Springfield mean ending Illinois'
16-year-old law banning same-sex marriage isn't a slam dunk, in the next
few weeks or next session.

Because gay rights are not strict party-line issues, a Democratic
majority doesn't automatically mean the bill will pass. When the General
Assembly approved civil unions for same-sex couples during the lame
duck session in 2010, 17 Democrats – most from central and southern
Illinois – voted no, while six Republicans said yes. The bill passed the
House by just two votes and the Senate by just one, though Democrats
had larger majorities in the House and Senate than they do now.
And as activists lobby friendly lawmakers, religious conservatives are consolidating their discriminatory forces. The Catholic Conference of Illinois, for example, has distributed "tool kits" to outline why the voting public should oppose marriage equality and they are also coordinating their efforts through a sub-group they're calling the Defense of Marriage Department. Very macho.