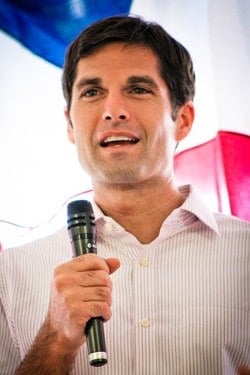 Matt Romney, Mitt Romney's second oldest son, traveled to Moscow this week to find investors for his company Excel Trust, which runs shopping malls here in the United States. His father of course famously described Russia as "our number one geopolitical foe".
While there, the younger Romney also told someone close to Russian President Vladimir Putin that his presidential candidate father doesn't really want to get too tough on the Kremlin. That's just campaign rhetoric.
The New York Times reports:
Mr. Romney's trip a week before the presidential election underscored the complex relationship between his family's business and the political campaign. Mitt Romney has criticized President Obama for being too soft on Russia, calling it "our No. 1 geopolitical foe" and promising to confront President Vladimir V. Putin's government with "more backbone" if elected on Tuesday.

…

But while in Moscow, Mr. Romney told a Russian known to be able to deliver messages to Mr. Putin that despite the campaign rhetoric, his father wants good relations if he becomes president, according to a person informed about the conversation.
During the third and final presidential debate, Mitt Romney tried to win favor by calling Obama out for that hot mic incident in which he reassured former Russian President Dmitry Medvedev, "After my election, I have more flexibility" and can be more lenient with our former nemesis.
Said Romney during the debate, "I'm not going to wear rose-colored glasses when it comes to Russia or
Mr. Putin, and I'm certainly not going to say to him, I'll give you more
flexibility after the election." It sounds like Matt may have.