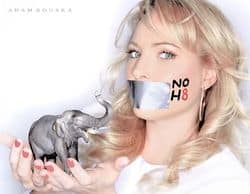 You can add another line to Meghan McCain's resume. McCain, author of Dirty Sexy Politics, MSNBC commentator, equality advocate and, of course, the daughter of Senator John, is now joining Young Conservatives for the Freedom to Marry, one of Freedom to Marry's spin-off groups.
"I'm thrilled to join the Young Conservatives for the Freedom to Marry,
who believe, as I do, that we don't have to choose between conservatism
and marriage for all committed couples," McCain said in the group's press release.
"I look forward to spreading the message that the tenets of family,
personal freedom and responsibility point the way toward a GOP that
fully embraces the freedom to marry."
The group's advocacy on behalf of same-sex marriages, like that full-page ad lambasting notable homophobe Tony Perkins and his Family Research Council, can only help move conservatives and the Republican Party in the right direction on marriage equality, and hopefully their work is more efficient than a party-wide proctology exam.