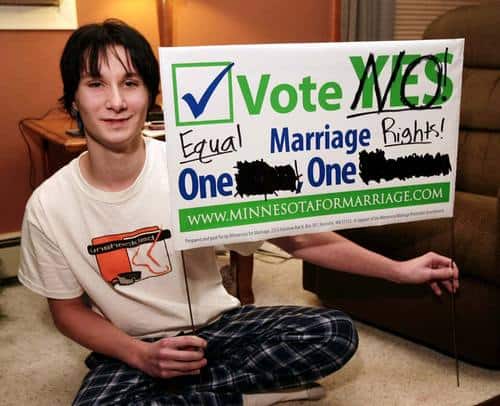 The Assumption Church, a Catholic congregation in Barnesville, Minnesota, does not mess around when it comes to fighting followers who support marriage equality.
The church's priest, Rev. Gary LaMoine, told the family of 17-year old Lennon Cihak that he cannot participate in his scheduled confirmation because Cihak shared his opposition to the recently defeated amendment that would define marriage as one man and one woman.
Not only that, LaMoine is now denying Communion to the entire family, including Cihak's parents, who have attended the church for decades.
From The Forum Of Fargo-Moorhead:
The Facebook post in question was a photo of Lennon in front of an altered political sign. Originally reading "Vote Yes" on the Minnesota Marriage Amendment… Lennon scribbled out the "yes" and replaced it with "NO"
…
Lennon said fellow students in his confirmation class "liked" the photo on Facebook, but they were still allowed to be confirmed.

"I just thought it was wrong to single him out," [mother] Shana said.

Her husband, Doug Cihak, agreed.

"(LaMoine) was talking about 'God doesn't believe in this.' Well, God created Lennon," said Doug, adding that he was baptized and raised in the same church.

But now the family is not allowed to participate in Communion there, Doug said, and he's worried as to how far the sanctions will go, expressing concern about being able to be buried alongside his parents.




Mrs. Cihak says she'll never return to the church, but Mr. Cihak is more forgiving, calling LaMoine a "messenger of the church." And even more forgiving, young Lennon told the The Forum he doesn't want this story to besmirch the entire church, "I don't want the Catholic
religion to be put down. It's just the way the priest has
things running. He's so strict. He won't loosen up about things."