Mitt Romney conducted a "spin and grin" call (desribed that way by someone who dialed in) today and spoke for the first time about his election loss, the NYT reports: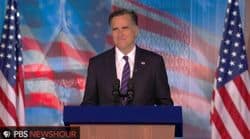 In a conference call on Wednesday afternoon with his national finance committee, Mr. Romney said that the president had followed the "old playbook" of wooing specific interest groups — "especially the African-American community, the Hispanic community and young people," Mr. Romney explained — with targeted gifts and initiatives.
"In each case they were very generous in what they gave to those groups," Mr. Romney said.
"With regards to the young people, for instance, a forgiveness of college loan interest, was a big gift," he said. "Free contraceptives were very big with young college-aged women. And then, finally, Obamacare also made a difference for them, because as you know, anybody now 26 years of age and younger was now going to be part of their parents' plan, and that was a big gift to young people. They turned out in large numbers, a larger share in this election even than in 2008…"
Full story here.