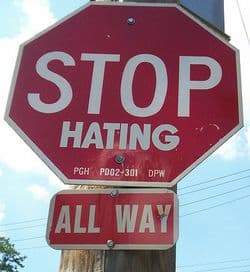 Last December, Texas prison inmate John Hall attacked another inmate because his victim appeared to be gay. Today, the Justice Department announced that Hall pleaded guilty of violating the Matthew Shepard and James
Byrd, Jr. Hate Crimes Prevention Act, the national law against targeting someone for their perceived sexual orientation or gender identity.
From the DOJ's press release:
According to information presented during the plea hearing, Hall targeted the victim, a fellow inmate, because of the victim's perceived sexual orientation. Hall admitted that he assaulted the victim because of his perceived sexual orientation by repeatedly punching and kicking the victim while calling the victim gay slurs. The victim sustained multiple lacerations to his face, and chipped and fractured teeth as a result of Hall's unprovoked attack. The assault occurred inside the Federal Correctional Institution, which is within the special maritime or territorial jurisdiction of the United States.
Thomas E. Perez, Assistant Attorney General for the Civil Rights Division, went on, "The Justice Department continues to investigate and prosecute acts of violence targeting individuals because of their sexual orientation; this case is just another example of the department's commitment to the pursuit of justice on behalf of all people regardless of their sexual preference or orientation."
Hall faces an extra ten years in prison for last year's attack.