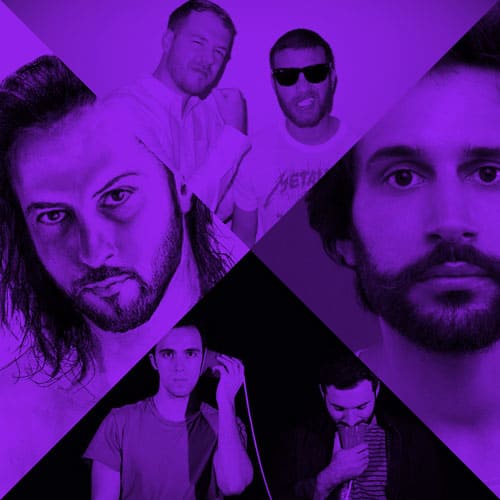 BY OCCUPY THE DISCO / TADEU MAGALHÃES
The OXD Mirror is a weekly music column brought to you by the boys of OCCUPY THE DISCO (OXD), a New York City based movement created by three music lovers, Ru Bhatt, Josh Appelbaum, and Tadeu Magalhães, who want to share their love for disco, house and dance music with the world.
Surahn: 'Watching The World'
Surahn Sidhu, an artist from Adelaide who has been part of the live band supporting the acclaimed Australian duo Empire of The Sun, is now ready to take off on his own. His first official release is 'Watching The World,' a slow disco track with a uniquely vintage sound to it that captured my attention at first listen. The acoustic instruments are really the star in this work and Surahn's voice accompanies it very smoothly. The track will be part of the Aussie's soon-to-be-released debut EP on DFA Records, home to other groups like LCD Soundsystem, The Rapture, and Holy Ghost!.
Chordashian: 'Call Me'
Brooklyn native Felix Feygin and Jersey boy Michael Banks started Chordashian in 2011 and since then have been gracing the world with their beautiful remixes and original productions. The latest, 'Call Me,' is a sweet electro-pop track that will surely be welcomed by a wide range of audiences, not limited to just the disco-savvy set. It is hard not to think of established music acts like Chromeo when listening to this one, with the feel-good, laid-back funky mood it creates.
Sohight & Cheevy: 'Travel Anthem (Moullinex Remix)'
The disco and house scene in Russia seems to be blossoming as of late. Following Tesla Boy's international success, St. Petersburg-based Sohight & Cheevy are becoming increasingly popular, especially now that their latest single, 'Travel Anthem,' has been remixed by well-known Munich-based Portuguese producer Moullinex. Moullinex's debut album, by the way, is my latest obsession and I have been giving it at least one full listen every day since its release. Make sure to check it out the OXD website.
MORE TRACKS, AFTER THE JUMP…
Giorgio Moroder vs. MB Disco: 'From Here To Eternity (ATTAR! Remix)'
Giorgio Moroder, the producer behind the most important of Donna Summer's disco anthems, is considered the creator of modern dance music as we know it today and revered as a music legend. To celebrate his work, Swedish label MB Disco has commissioned a series of remixes for Moroder's 'From Here to Eternity,' originally released in 1977. Brussels-based ATTAR! takes the original euro-disco track and freshens it up for the current era, while keeping the iconic elements that make this Moroder work so memorable. Make sure to also check out the epic Aeroplane remix included in the same release.
Aeroplane: 'We Can't Fly (Oliver Remix)'
Having mentioned Aeroplane, I can't miss the opportunity to showcase this brand new remix for a track originally included in the Belgian producer's debut album from 2010. 'We Can't Fly' was a personal favorite from this release with its uplifting, gospel-music inspired vocals and dreamy piano solos. LA duo Oliver re-interprets the original work with an air of innocence and cheerfulness that is distinctive to their work. The remix is one of the bonus tracks in the colossal 5-CD compilation Eskimo Records released this week called Eskimonde. The complilation features a decade worth of new disco anthems under their umbrella, produced and remixed by many of the artists we often mention here, and comes in a state-of-the-art package. If you love disco like we do, this compilation will surely blow your mind.
This week's post was written and curated by Tadeu Magalhães.
For more information on OXD, check out our website and accompanying blog at www.occupythedisco.com, like us on Facebook, or follow us on Twitter: @OccupyTheDisco.