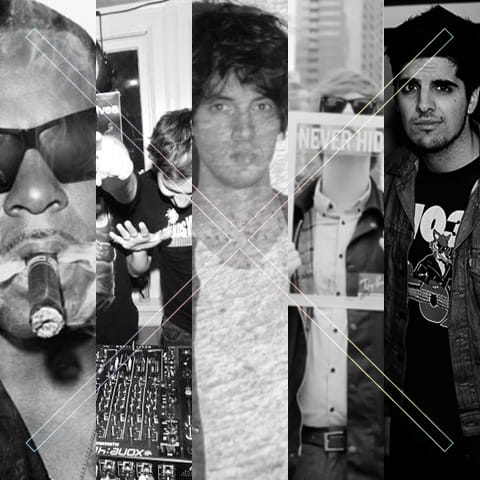 BY OCCUPY THE DISCO / JOSH APPELBAUM
The OXD Mirror is a weekly music column brought to you by the boys of OCCUPY THE DISCO (OXD), a New York City based movement created by three music lovers, Ru Bhatt, Josh Appelbaum, and Tadeu Magalhães, who want to share their love for disco, house and dance music with the world.
R Kelly: 'Feelin' Single (Speakerbot Remix)'
R. Kelly is an artist that needs no introduction, now on his 11th solo studio album after selling millions of records since the early 90s.  'Feelin Single' is a promotional single from his latest album, Write Me Back, which was noted for the its retro, throwback vibe and a for being a departure from the silliness that has encompassed Kelly's songwriting in the past decade.  New Jersey-based DJ Aashish Bansal, also known as Speakerbot, gives this song an ethereal spacey beat that definitely made my head turn at first listen.  Maybe R. Kelly's next effort should take a decidely disco approach?
Only Children: 'Falling'
Artists/DJ Collective/Record Label Only Children have a lengthy job description as they touch so many facets of the music business.  Whether it's remixing, making original music, DJing, or booking talent for their label, Chicago-based Only Children have certainly kept themselves busy this past year.  As a special treat for Brooklyn-based label Razor N Tape, the group has remastered Surface's 1983 single 'Falling in Love' into a funky mid-tempo dance track.  The funk injected into the song adds a modern twist to this post-disco early 80s gem.
Roosevelt: 'Soleil'
Newcomer Roosevelt actually hails from Cologne and claims he has no particularly affinity for U.S. history.  Known also as Marius Lauber, Roosevelt recently signed to Greco-Roman records and has toured with Totally Enormous Extinct Dinosaurs (TEED) in the UK and DJed with Hot Chip.  His first 2-track single release includes his other song 'Sea' (which he recorded a sweet video for) as well as 'Soleil.'  Mellow vocals and production are Roosevelt's signature style in both tracks, with a style reminiscent of peers like Peter Bjorn and John.
MORE NEW TRACKS, AFTER THE JUMP…
Two Door Cinema Club: 'Sun (Gildas Kitsune Club Night Mix)'
Irish indie favorites Two Door Cinema Club, (who we have covered before) have gained quite the following since their first album, Tourist History, hit the shelves in 2010. Their sophomore album, Beacon, released in September, has managed to go to #1 in their home country, #2 in the UK and #17 in the U.S, despite little press coverage.  'Sun' is the second single release from Beacon. It should come as no surprise the band is signed to French label Kitsuné and the dance-loving label has given 'Sun' their famous 'Gildas Club Night remix' treatment.  We can't wait to see what great things this band – as well as their label – come out with next.
Solidisco: 'Turn Around (Original Mix)'
Two Buffalo-area DJs met through their craft and formed a musical bond now known as Solidisco.  With a surprisingly high number of releases under their belt in under 3 years, this duo is determined to use their production skills and love for dance music to put out some of the best disco house music in the business.  They recently sampled George Benson's 1981 single, 'Turn Your Love Around' for their latest release 'Turn Around', which is available as a free download above (Just click the download button on the Soundcloud).  This reinterpretation is a dancefloor filler, with funky beats and instrumentals sure to get everyone's feet moving.
OCCUPY THE DISCO (OXD) curates and recommends music events to the gay community in NYC—in an effort to move the focus of the nightlife scene beyond the promoter and venue and to the music itself. OXD's goal is to educate, entertain, engage and empower the gay audience to reclaim their ability to question and experience the unknown. The OXD Mirror will serve to showcase tunes that are definitely off-the-beaten-path but rightfully deserve the attention of the gay ear. It's music that will make you dance, dream, and most importantly, love.
TOMORROW NIGHT:
If you've kept up with OXD, you know that we are huge fans of The Magician.  Whether it's his massive production work as one half of Peter and The Magician (alongside Yuksek), remixes for artists like Sam Sparro and Lykke Li or producing his famous mixtapes (the latest one below), The Magician is leading the nu-disco and house scene with his finesse and great taste.  We are excited to bring LGBT music fans together to Occupy The Disco for his live set in New York City this Saturday night at Le Poisson Rouge.  Check out the event listing here and be sure to RSVP on Facebook. We'll see you on the dancefloor Saturday night!

This week's post was written and curated by Josh Appelbaum
For more information on OXD, check out our website and accompanying blog at www.occupythedisco.com, like us on Facebook, or follow us on Twitter: @OccupyTheDisco.