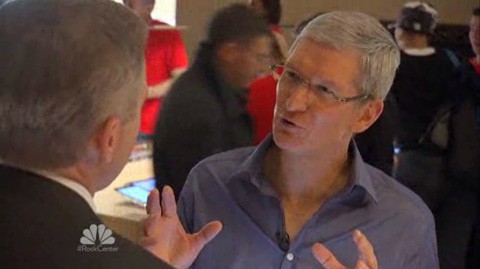 Tim Cook gave his first full TV interview last night to Brian Williams on Rock Center, and his first since the death of Steve Jobs. Cook talked about problems that the company has faced since then — the Maps application, controversy over its factories in China — and what plans the company might have for the future, including, possibly, an Apple-branded TV.
Watch it, AFTER THE JUMP…
Though the interview talked about the many ways that Apple is now trying to be transparent, that doesn't extend to Cook's personal life, since he's still not saying much about life at home, aside from the fact that he' a very private individual, and works out and visits National Parks to de-stress.
Wrote Gawker in August of last year:
After Cook was profiled as a "lifelong bachelor" and "intensely private" elsewhere, we wondered if he might be gay. We've since heard from two well-placed sources that this is indeed the case, and it sounds like Cook's sexual orientation has been the topic of at least some discussion within the company. One tech executive who has spoken to multiple Apple management veterans about Cook was told executives there would support Cook if he publicly acknowledged his orientation, and even would encourage him to do so as he steps up his leadership role, but that they also had concerns about whether his coming out would impact the perception of the Apple brand.
Wrote Felix Salmon in a powerful piece for Reuters:
But surely this is something we can and should be celebrating, if only in the name of diversity — that a company which by some measures the largest and most important in the world is now being run by a gay man….
None of that came up in the interview so it rings slightly false when Williams proclaims, "This is kind of your television coming out."
We'll be waiting for that. In the meantime, what are your thoughts about this? Would Cook's coming out impact the perception of Apple? In what ways would it make a difference? Would a similar interview with the heads of Google or Amazon mention their lives at home with their wives and children?
Watch it, AFTER THE JUMP…
Visit NBCNews.com for breaking news, world news, and news about the economy
Visit NBCNews.com for breaking news, world news, and news about the economy