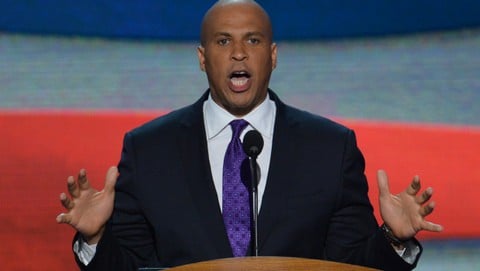 Cory Booker, the equality-minded hero mayor of Newark, won't be running against Chris Christie for the Garden State's gubernatorial seat. Instead, sources say he plans on making a go at the U.S. Senate in 2014.
New York's local NBC affiliate reports:
Booker will seek the U.S. Senate seat held by fellow Democrat Frank Lautenberg when his term is up in 2014, political sources tell NBC 4 New York. Lautenberg, 88, is the oldest current senator…

Booker's decision not to challenge Christie comes as the Republican incumbent enjoys record-high approval ratings in polls taken since Sandy hit the Garden State.

Many Democrats considered Booker, the two-term mayor of Newark, to be their best chance to take on the popular Christie.
LGBT equality groups were among those hoping to see Booker versus Christie.