François Hollande is at the center of a storm in France and his lackluster support for the equality he once promised gay people means he has groups from both sides protesting his position in the streets. Gay rights groups are planning a new protest this weekend: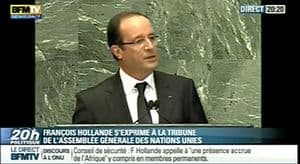 Hollande's law is not just about gay marriage but also adoption for gay couples, which is still illegal in France and remains controversial. The proposed law would only allow gay couples the right to adopt if they were married, not in a civil partnership – a distinction that has rung alarm bells among equality groups.
The law would not give automatic joint parenting rights to gay couples who had a child together, nor would it allow medically assisted procreation or IVF. This would give French gay people far fewer rights than those in the UK, and leave a stark inequality between gay and straight couples which has infuriated many on the left.
Socialists and gay campaigners will take to the streets on Sunday for a demonstration which they hope will counter the outpouring of opposition to gay marriage and adoption from the right and certain key figures in the Roman Catholic church.