BY NAVEEN KUMAR
The true nature of art, the steadfastness
of love, the inevitability of death—this is the stuff of great opera, and the
same lofty stuff that Terrence McNally's play The Golden Age, which made its
New York premiere Off-Broadway this week at Manhattan Theatre Club's City
Center Stage I, struggles to lay bare — just without all the beautiful music.
Set
backstage on opening night of Vincenzo Bellini's 1835 opera I Puritani in Paris,
the play attempts to tackle in plain spoken contemporary words the sort of
operatic stakes about which Bellini's characters sing on stage out of sight. It's
a tall order, even for a gifted veteran of the American theatre like McNally, known
for (among other things) his insightful dramas centered upon gay experience,
homophobia and the AIDS crisis (Lips Together, Teeth Apart; Love! Valour! Compassion!),
and acclaimed plays about opera and opera divas (The Lisbon Traviata, Master
Class).
Despite assembling a top notch cast, including stalwarts of the stage Bebe
Neuwirth and an underused F. Murray Abraham, McNally's latest treatment of somewhat
familiar territory falls short of offering insight on any of the various
broad-stroke themes it has in its sights.
The
always charming Lee Pace (Lincoln, The Normal Heart) has the whirlwind task of
playing young artist Bellini—pacing, fretting and waxing poetically through the
trial of a composer milling backstage during his opera's opening night. Pace
commits fully to his tireless performance of an artist consumed. Equally arrogant
and insecure, Bellini becomes McNally's resident voice of artistic authority, voicing
passionate theories about art, artistic integrity and the nature of creativity.
Trouble arises as we are constantly led to draw comparisons between the
playwright's work and his character's best laid ideas about art. "The highest
art should be un-performable," Bellini says. "What they call art is artifice. What
I call art is free, as wild as unmanageable as life itself. Away with
structure. Only feeling matters."
Under the serviceable though staid direction
of Walter Bobbie (Venus in Fur), McNally's play soars to no such heights.
Propped up between structures—of the opera being performed off-stage and the
historical characters upon which Golden Age is based—much of the drama deals in
artifice and ego, without scratching beneath the surface of caricature.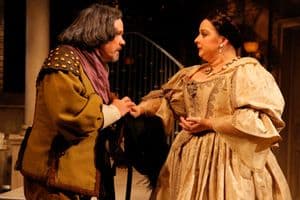 Though Bellini and
his cast of characters (and lovers) are based on people who lived and breathed,
whether the audience is familiar with the world of nineteenth century opera or
not, the play provides precious little help for understanding much about these
players beyond their vocal range and professional rivalries. As Francesco
Florimo, Bellini's young patron and male lover, Will Rogers (The Public's As
You Like It) stands out as the most affecting corner of the central love triangle
that also include's Neuwirth's Maria Malibran. Rogers brings a tender emotional
shading to the role mostly missing from the rest of the play.
Much of the
evening's humor comes in the form of insider opera jokes and racial-ethnic
stereotypes bandied between Europeans — generalizations based on nationality
where specifics about characters would be helpful. Bits of bawdy physical humor
crop up throughout, mostly thanks to the baritone (Lorenzo Pisoni) who uses
fruit and vegetables to enhance the bulge in his pants. Consistent with the
rest of the period drama clichés at work, a nineteenth century cough in the
first act reveals itself as a sign of fatal illness by the second, in the form
of a bloody handkerchief. The spotted rag of course belongs to Bellini, whose premature
death at the age of 33 hangs over the evening lending ominous shadows to much
theorizing about the nature of art and immortality. Ultimately, McNally provides
little by way of revelation on this front—Bellini's opera indeed lives on, and
actors and audience alike listen wistfully to unseen snippets. If only a little of
its artistry were in the room at City Center.
***
Naveen Kumar is a writer and editor living in New York City. He has spent close to ten years working in the New York theatre world and recently earned a masters degree in English and Comparative Literature from Columbia University. Starting today, Naveen will be contributing reviews, interviews, and other items of interest related to theatre for Towleroad.