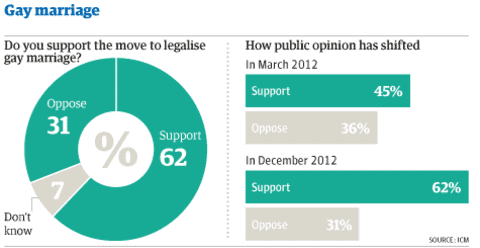 England's new year will bring plenty more debate about marriage equality, and Prime Minister David Cameron can rest easy knowing he has a majority of the country behind him.
According to a poll conducted for The Guardian, 62% of Britain's voting public endorses the conservative PM's controversial plan for marriage equality:
The ICM poll conducted just before Christmas found 62% of voters now support the proposals, with half this number – 31% – opposed. Most previous polls have found opinion leaning the same way, although the two-to-one margin revealed on Wednesday is particularly emphatic. An ICM online survey for the Sunday Telegraph in March asked the identical question – which expressly reminds people that the option of civil partnerships already exists for gay couples – and established a 45%-36% lead for the reformers.
Meanwhile, over at The Independent, a ComRes poll shows that the same percentage, 62, believes that the Church of England should be allowed to perform same-sex marriages. Cameron's plan would forbid them from doing so.