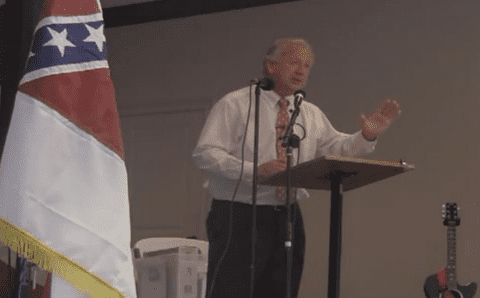 Human Rights Campaign today asked Maryland Marriage Alliance, that state's largest anti-gay marriage organization, to return $10,000 from Michael Peroutka, their largest donor, because of his ties to White Supremacists.
From HRC:
Peroutka was a featured speaker at the League of the South's national conference this past July, as he was in 2004, 2008, and 2010. According to the SPLC, the League of the South "believes the 'godly' nation it wants to form should be run by an 'Anglo-Celtic' (read: white) elite that would establish a Christian theocratic state and politically dominate blacks and other minorities." The organization says that its relentless pursuit of white supremacy is "healthy and Biblical."

…

Peroutka appeared along with Hill and Tubbs in front of Confederate flags at the League of the South conference, said that he was grateful for the organization's endorsement of his fringe 2004 presidential campaign and remarked that "If this be hate, let's make the most of it."… He has also appeared on a white supremacist radio show called The Political Cesspool. The Montgomery Advertiser reported that one of the bedrock principles of the show Peroutka appeared on is the need to "grow the percentages of Whites in the world relative to other races."
The Maryland Marriage Alliance was founded and is funded in part by the Maryland Catholic Conference and the National Organization for Marriage. And what a waste of money it was for them: marriage equality passed in Maryland.
Watch video of Peroutka's appearance at the League of the South's 2012 conference AFTER THE JUMP.